About INNER COMPOSURE Yoga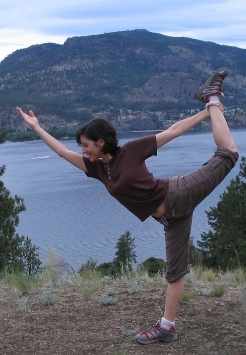 Michal Retter, certified by Yogafit Teacher Trainings Worldwide, teaches Yoga in Bellingham, WA. Her classes and workshops are unique in the industry.
Rather than adhering to one specific style of Hatha Yoga, sessions include a variety of different styles. Combinations of Kundalini Yoga and meditation, Pranayama breathing, Power Yoga, Yin Yoga, Viniyoga, Ashtanga and traditional Yoga are included.
All classes address the mind as well as the body – realizing how the body responds directly to all ideas and thoughts entertained by the mind. The body formulates itself from mind projection. This is perhaps the core principle of the Body-Mind connection that is always integrated into the Yoga practice.
Many people consider Michal an inspiration and even a blessing in their lives. She has helped people improve the state of their health and well being. Emphasis is placed on addressing each person's needs whether they are physical, emotional, mental or spiritual.
"Michal Retter is a wonderful yoga teacher who incorporates knowledge, practice and wisdom into her classes. She always takes the time to listen to her students needs and uses her knowledge and intuition to help and enhance her students practice and life. I have been practicing yoga for years and I've found her to be a rare gem of a teacher!"
- Yael Amir, Interior Designer, Seattle
Classes always include a balance between stimulation and calmness.
Michal is proficient in guided visualization and relaxation as well as patient and perceptive to individual progress. She strives to create an environment of inner composure that guides you to listen to your own body's subtle wisdom.
However, if you're into Power Yoga, she is always ready to challenge!
Continuously training, improving and dedicated to her own personal growth, she recognizes that
"All teachers of Yoga are students of Yoga
Yoga itself teaches me and I learn"